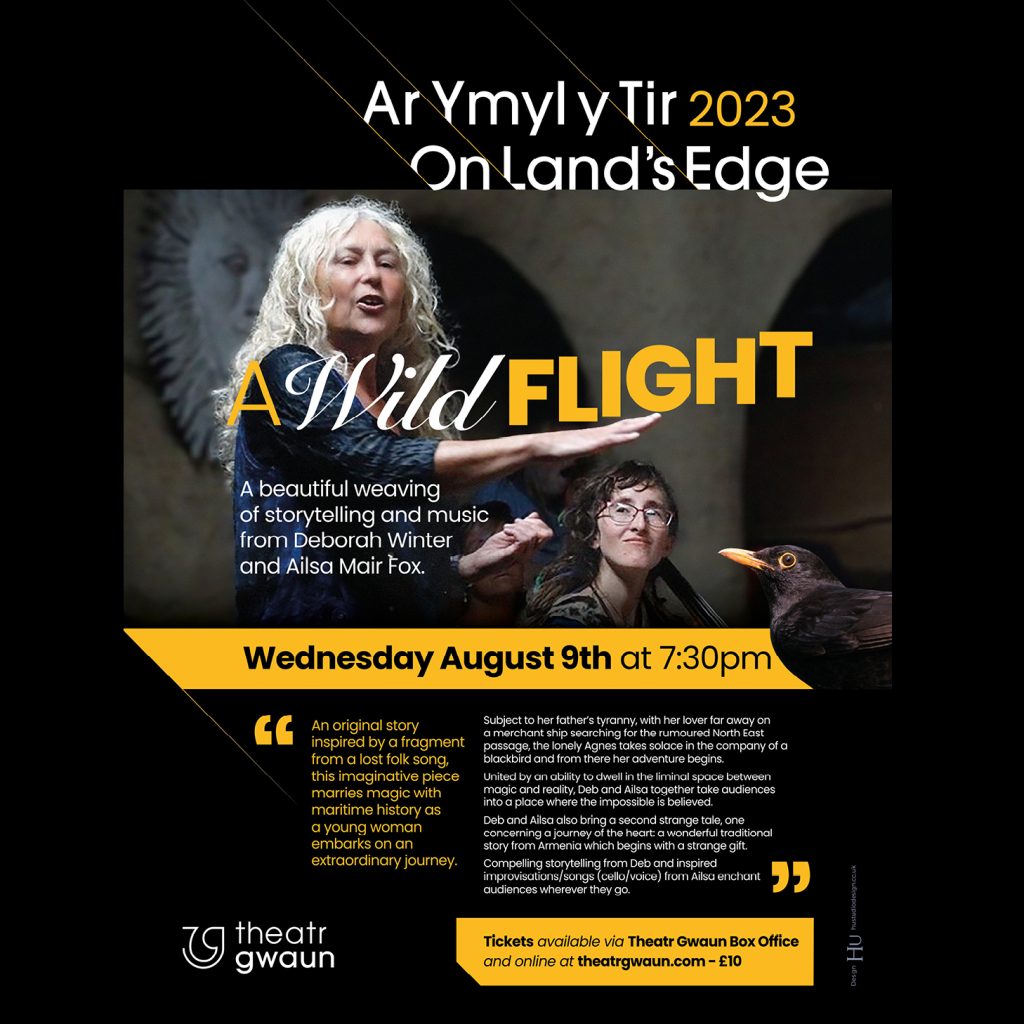 A Wild Flight
A beautiful weaving of storytelling and music from Deborah Winter and Ailsa Mair Fox.
An original story inspired by a fragment from a lost folk song, this imaginative piece marries magic with maritime history as a young woman embarks on an extraordinary journey.
Subject to her father's tyranny, with her lover far away on a merchant ship searching for the rumoured North East passage, the lonely Agnes takes solace in the company of a blackbird and from there her adventure begins.
United by an ability to dwell in the liminal space between magic and reality, Deb and Ailsa together take audiences into a place where the impossible is believed.
Deb and Ailsa also bring a second strange tale, one concerning a journey of the heart: a wonderful traditional story from Armenia which begins with a strange gift.
Compelling storytelling from Deb and inspired improvisations/songs (cello/voice) from Ailsa enchant audiences wherever they go.
Hedfan Gwyllt
Gwead hyfryd o adrodd straeon a cherddoriaeth gan Deborah Winter ac Ailsa Mair Fox.
Stori wreiddiol wedi'i hysbrydoli gan ddarn o gân werin goll. Mae'r darn llawn dychymyg hwn yn priodi hud a lledrith â hanes morwrol wrth i ferch ifanc gychwyn ar daith ryfeddol. O dan ormes ei thad, gyda'i chariad ymhell i ffwrdd ar long fasnach yn chwilio am daith sibrydion y Gogledd Ddwyrain, mae Agnes yn canfod cysur yng nghwmni mwyalchen. Ac felly, mae ei hantur yn cychwyn.
Wedi'u huno gan y gallu i drigo yn y gofod cyfyngol rhwng hud a realiti, mae Deb ac Ailsa yn mynd â chynulleidfaoedd ymhell o'r byd hwn. Maent yn cyflwyno ail stori hefyd, un yn ymwneud â thaith y galon: stori draddodiadol hyfryd o Armenia sy'n dechrau gydag anrheg ryfedd.
Mae sgiliau adrodd straeon Deb a pherfformiadau/caneuon byrfyfyr ysbrydoledig (sielo/llais) gan Ailsa yn swyno cynulleidfaoedd lle bynnag y byddant yn mynd.