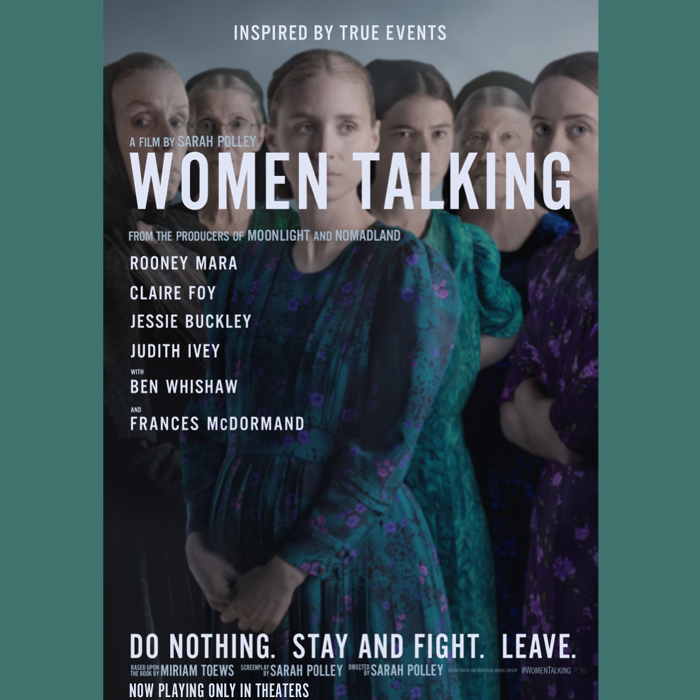 Women Talking (15)
Director/Cyfarwyddwr: Sarah Polley, USA/UDA, 2022
Do nothing. Stay and fight. Or leave. In 2010, the women of an isolated religious community grapple with reconciling a brutal reality with their faith.
The movie Women Talking is based on Miriam Toews's 2018 novel of the same name, which was in turn based on a true story of vicious serial rapes in an insular, ultraconservative Mennonite community.
Sexual violence told sensitively with moments of humour and compellingly acted by a star cast.
Gwneud dim. Aros ac ymladd. Neu gadael. Yn 2010, mae merched cymuned grefyddol ynysig yn mynd i'r afael â chysoni realiti creulon â'u ffydd.
Mae'r ffilm Women Talking yn seiliedig ar nofel 2018 Miriam Toews o'r un enw, a oedd yn ei thro yn seiliedig ar stori wir am dreisio cyfresol, dieflig mewn cymuned Mennonaidd ynysig, tra-geidwadol.
Stori am drais rhywiol yn cael ei adrodd yn sensitif gydag eiliadau o hiwmor ac wedi'i actio'n wychgan gast o sêr.