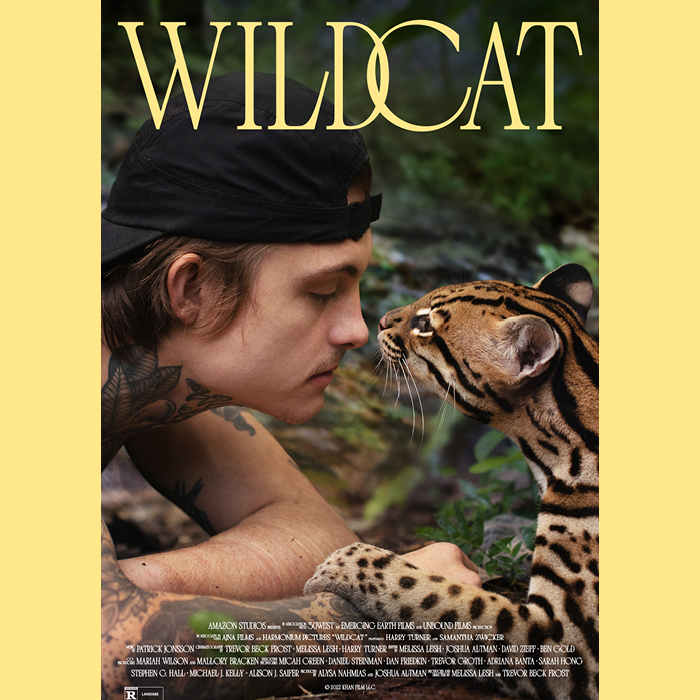 WILDCAT (15)
Director:Trevor Frost, Melissa Lesh/ USA/2022/Documentary/106mins – Trevor Frost, Melissa Lesh/ UDA/2022/Rhaglen Ddogfen
Back from war in Afghanistan, a young veteran with depression and PTSD finds a second chance in the Amazon rainforest when he meets an American scientist. Together they foster an orphaned baby ocelot. Wildcat follows the emotional and inspiring story to the remote Las Piedras River to witness how two orphaned ocelots and the solitude of wilderness help two young people with traumatic pasts to heal and love life again.
Yn ôl o ryfel yn Afghanistan, mae cyn-filwr ifanc gydag iselder a PTSD yn dod o hyd i ail gyfle yng nghoedwig law'r Amazon pan fydd yn cwrdd â gwyddonydd o America. Gyda'i gilydd maen nhw'n meithrin ocelot babi amddifad. Mae Wildcat yn dilyn stori emosiynol, ysbrydoledig i'r Afon Las Piedras anghysbell. Gwelwn sut mae dau ocelot amddifad ac unigedd y gwyllt yn helpu dau berson ifanc â gorffennol trawmatig i wella a charu bywyd eto.