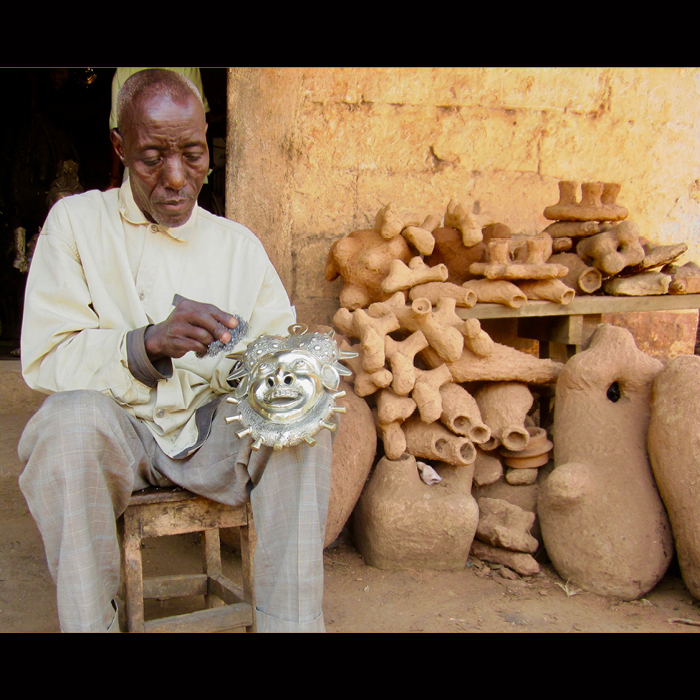 The Bronze Men of Cameroon (PG)
Director/Cyfarwyddwr: Florence Ayisi/Wales/Cymru/2021/55mins/munud
Theatr Gwaun are delighted to be hosting the screening of The Bronze Men of Cameroon as part of the WOW Festival 2023 . This collaborative event will see WOW, Fishguard Arts Society and Theatr Gwaun all contributing to provide a superb evening of Film followed by a Q & A with the Director, Florence Ayisi.
A beautifully shot, intimate portrait of a community of bronze artisans in Foumban, the 'City of Arts' that explores cultural heritage, continuity, and change. As we watch them at work, we learn how they produce bronzes that are inscribed with symbolic narratives, collective memory, and the identity of the Bamum. And also how this traditional art practice and unique cultural heritage is threatened by global trends. Are these the last generation of bronze craftsmen in the Bamum Kingdom?
"an in-depth and intimate look at the lives of the Bamum People" Indy Film Library
Winner Best International Documentary International Black and Diversity Film Festival Toronto 2021
Portread hyfryd, agos-atoch o gymuned o grefftwyr efydd yn Foumban, 'Dinas y Celfyddydau' sy'n archwilio treftadaeth ddiwylliannol, parhad a newid. Wrth i ni eu gwylio wrth eu gwaith, rydyn ni'n dysgu sut maen nhw'n cynhyrchu efydd sydd wedi'u harysgrifio â naratifau symbolaidd, cof torfol, a hunaniaeth y Bamum. A hefyd sut mae'r arfer celf traddodiadol hwn a'r dreftadaeth ddiwylliannol unigryw hon yn cael eu bygwth gan dueddiadau byd-eang. Ai dyma'r genhedlaeth olaf o grefftwyr efydd yn y Deyrnas Bamum?
"golwg fanwl ac agos-atoch ar fywydau Pobl Bamum" Llyfrgell Ffilm Indy
Enillydd Rhaglen Ddogfen Ryngwladol Orau Gŵyl Ffilm Ddu ac Amrywiaeth Ryngwladol Toronto 2021
Bydd Florence Ayisi yn ymuno â ni ar gyfer sesiwn holi-ac-ateb ar ôl y ffilm.