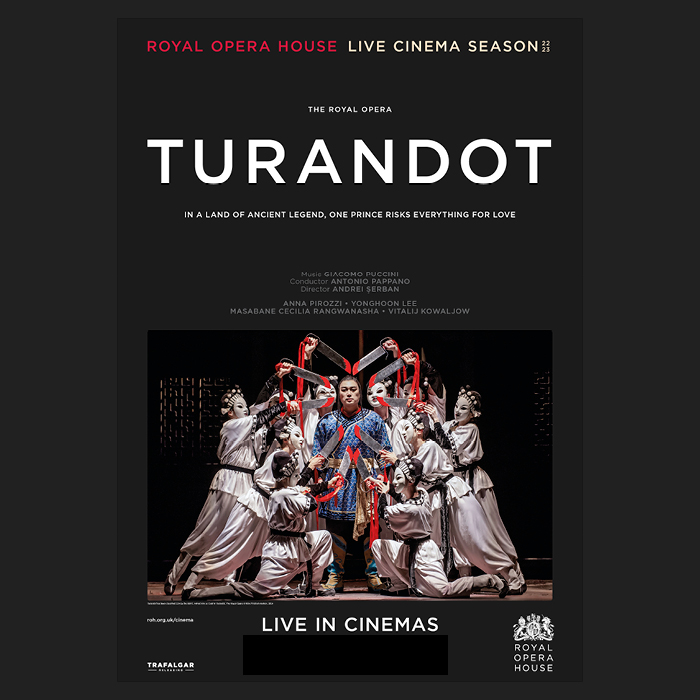 Royal Opera House: Turandot
In the court of Princess Turandot, suitors who fail to solve her riddles are brutally killed. But when a mysterious Prince answers one correctly, suddenly he holds all the power – and a glorious secret. When life hangs in the balance, can love conquer all?
Puccini's score is rich in musical marvels (featuring the famous aria 'Nessun dorma'), while Andrei Serban's production draws on Chinese theatrical traditions to evoke a colourful fantasy tableau of ancient Peking. Antonio Pappano conducts Anna Pirozzi in the title role and Yonghoon Lee as Calaf.
Yr Opera Brenhinol: Turandot
Yn llys y Dywysoges Turandot, mae cyfreithwyr sy'n methu â datrys ei phosau yn cael eu lladd yn greulon. Ond pan fydd Tywysog dirgel yn ateb un yn gywir, yn sydyn mae'n dal yr holl rym – a chyfrinach ogoneddus. Pan fydd bywyd yn hongian yn y fantol, a all cariad goncro'r cyfan?
Mae sgôr Puccini yn gyforiog o ryfeddodau cerddorol (yn cynnwys yr aria enwog 'Nessun dorma'), tra bod cynhyrchiad Andrei Serban yn tynnu ar draddodiadau theatrig Tsieineaidd i greu tableau ffantasi lliwgar o Peking hynafol. Antonio Pappano sy'n arwain Anna Pirozzi yn y brif ran ac Yonghoon Lee fel Calaf.