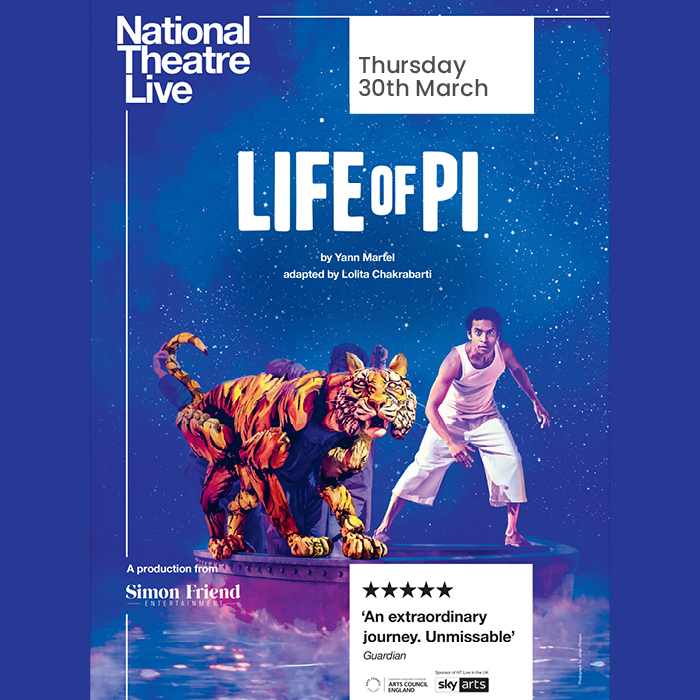 National Theatre Live: Life of Pi
Puppetry, magic and storytelling combine in a unique, Olivier Award-winning stage adaptation of the best-selling novel. 
After a cargo ship sinks in the middle of the vast Pacific Ocean, a 16-year-old boy named Pi is stranded on a lifeboat with four other survivors – a hyena, a zebra, an orangutan and a Royal Bengal tiger. Time is against them, nature is harsh, who will survive?
Filmed live in London's West End and featuring state-of-the-art visuals, the epic journey of endurance and hope is bought to life in a breath-taking new way for cinemas screens.
Y Theatr Genedlaethol yn Fyw: BYWYD PI
Gwybodaeth Gyffredinol / Gwesteiwr / Perfformiwr:
Mae pypedwaith, hud ac adrodd straeon yn cyfuno mewn addasiad llwyfan unigryw o'r nofel hon. Mae'r gyfrol wedi gwerthu'n wych ac wedi wedi ennill Gwobr Olivier.
Ar ôl i long gargo suddo yng nghanol y Môr Tawel helaeth, mae bachgen 16 oed o'r enw Pi yn sownd ar gwch achub gyda phedwar o oroeswyr eraill – hyena, sebra, orangwtan a theigr o Bengal. Mae amser yn eu herbyn, mae natur yn llym, pwy fydd yn goroesi?
Wedi'i ffilmio'n fyw yn West End Llundain ac yn cynnwys delweddau o'r radd flaenaf, mae'n daith epig o ddygnwch a gobaith sy'n dod yn fyw mewn ffordd newydd syfrdanol ar gyfer sgriniau sinemâu.