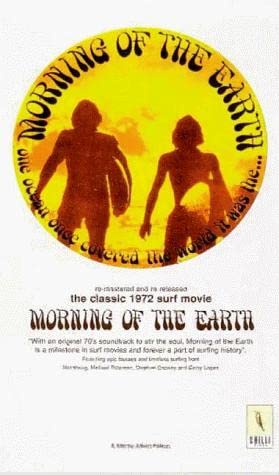 MORNING OF THE EARTH 1972 • PG
1hr 19mins
The film portrays surfers living in spiritual harmony with nature, making their own boards (and homes) as they traveled in search of the perfect wave across Australia's north-east coast, Bali and Hawaii.
LIVE MUSIC & FILM EVENT 21st September 2021 EVENT CANCELLED
Runtime – 1 hour 20 mins
Band length – 1hour to 90 mins
Performed by DAN MESSORE with Alaias
"music for an imaginary surf film"
A concept album about surfing could be a hard sell if it didn't sound like this.
Guitarist, composer Dan Messore and his trio have created something special, a suite of music that is engaging, thrilling, at times beautiful and never smooth.
In an instrumental setting players with this much facility tend to solo and solo and solo, usually one after another, the whole affair being sandwiched by as little composition as they can get away with. People this ain't like that. On Alaias (pron. I-Lie-Us) guitars, moog, hammond and tasty drumming bring a tight sequence of surprising compositions and soundscapes to life.
If Mike Oldfield could swing and knew when to stop his music could have sounded like this. We've all sat on a beach squinting at a pod of surfers performing seemingly effortless acrobatics. "I wonder what that feels like" we think to ourselves. Listening to this music with your eyes closed might go some way
to answering that question.