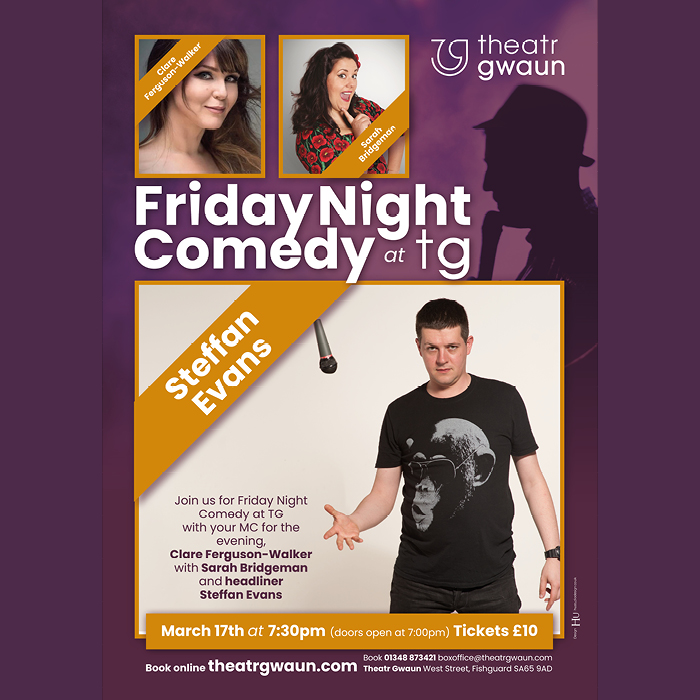 Friday Night Comedy at TG!
After dipping our toe in last June, we're back on. Clare-Ferguson Walker and Blanche Giacci are producing our return to Comedy with 'Friday Night Comedy at TG' on Friday March 17th at 7:30pm.
We've got a fantastic line-up for you, MC'ed by the supremely talented Clare Ferguson-Walker who will be introducing Sarah Bridgeman to our stage before she passes the baton to our Headliner, Pembrokeshire's own, Steffan Evans.
This talented tag team of comedy are not to be missed, so make sure you save the date and book early.
As always, we'll be open at 7:00pm, so join us for pre-show drinks in our bar area, Martha's – see you there!
Sarah Bridgeman
Sarah is a warm and friendly performer, with observational material about her life in Wales. She has been a weird news commentator for BBC Radio Wales, a finalist for the Welsh national comedy competition WUSA , and has written a play based on her experiences in comedy, performed by Fluellen Theatre Company.
Praise for Sarah
"A joke machine" Jamie Owen, BBC Radio Wales
"Funny quirky and instantly likeable" Ffandango Comedy Club
"Always a hit with our audience" – Dolly Chicken Comedy
"Sharp writing and darkly relatable observations, Highly recommended!" – Howl
MC Clare Ferguson-Walker
Award winning stand up comedienne and poet Clare Ferguson-Walker is back at Theatr Gwaun with her bawdy and razor-sharp humour. "Utterly Hilarious" Metro
Headliner Steffan Evans
Steffan Evans from Eglwyswrw in Pembrokeshire, is a comedian with a unique insight into the world. He supported Elis James on his national tour in 2017 and also appeared on S4C's "Gwerthu Allan" and "O'r Diwedd" shows. He has been a prominent contributor to the BBC's hit Sesh digital videos and has entertained audiences all over the UK performing at some of the country's most prestigious comedy clubs.
'Effortlessly funny with a weather resistant charm' Tudur Owen
Comedi Nos Wener Yn TG
Mae gennym ni arlwy ffantastig ar eich cyfer chi, gyda'r hynod dalentog Clare Ferguson-Walker yn cyflwyno Sarah Bridgeman i'n llwyfan cyn iddi basio'r baton i'r prif ddigrifwr, o Sir Benfro ei hun,- Steffan Evans.
Peidiwch colli'r tîm talentog hwn. Gwnewch yn siŵr eich bod chi'n cadw'r dyddiad ac yn archebu'n gynnar. Byddwn ar agor am 7:00yh, felly ymunwch â ni am ddiodydd cyn y sioe yn ein bar, 'Martha's' – welwn ni chi yno!