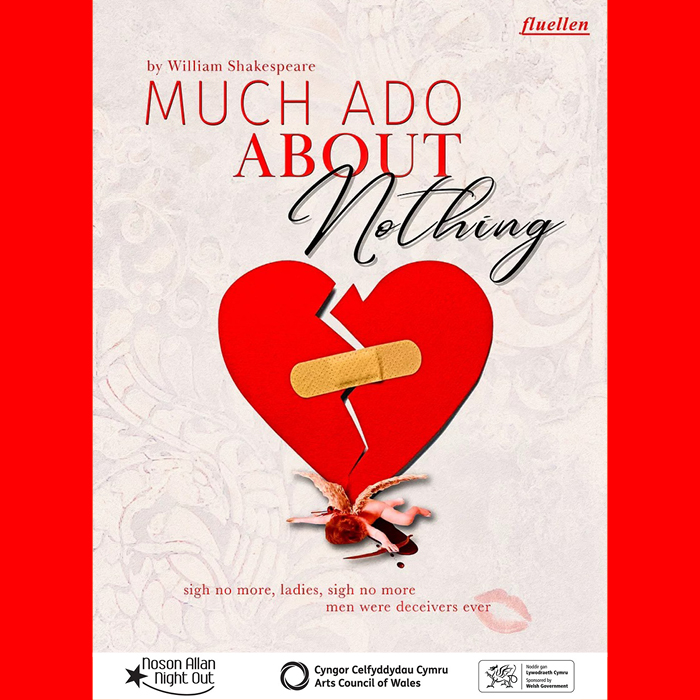 MUCH ADO ABOUT NOTHING
"Some cupid kills with arrows, some with traps"
Fluellen is delighted to present its first Shakespeare production in four years!
Sicily. A victorious army returns from the war. There is much to celebrate and a few romances to rekindle. Beatrice and Benedick, however, are determined never to marry – especially to each other!
But plots are afoot and misunderstandings abound as Beatrice and Benedick go head to head in this brilliant but decidedly dark-edged comedy that remains one of Shakespeare`s most popular plays.
This performance is supported by the Arts Council of Wales' Night Out Scheme
"Mae 'ciwpid' weithiau yn lladd gyda saethau, ac weithiau â trap!"
Mae Cwmni Fluellen yn falch iawn o gyflwyno ei gynhyrchiad Shakespeare cyntaf mewn pedair blynedd!
Ar ynys Sicily, mae byddin fuddugol yn dychwelyd o'r rhyfel. Mae llawer i'w ddathlu ac ambell ramant i ailgynnau. Fodd bynnag, mae Beatrice a Benedick yn benderfynol o beidio byth â phriodi – yn enwedig i'w gilydd!
Ond mae cynllwynio a chamddealltwriaeth yn cymhlethu bywyd wrth i Beatrice a Benedick fynd benben â'i gilydd mewn comedi tywyll a gwych, sy'n parhau i fod yn un o ddramâu mwyaf poblogaidd Shakespeare.