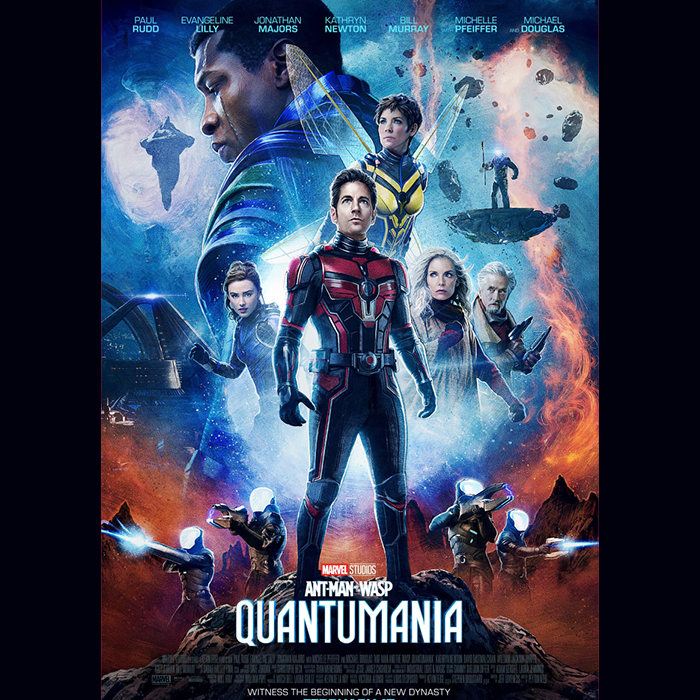 Ant-Man and the Wasp: Quantumania (12A)
The latest in the Marvel Cinematic Universe is an adventure in the Quantum Realm. Paul Rudd, Michelle Pfeiffer, Michael Douglas and Evangeline Lilly return as the family with fantastic technology that allows them to grow, or shrink, to fit the challenges they face. This time they meet Kang the Conqueror, a time-travelling adversary trapped, along with Ant-Man, in the Quantum world. Tipped as the next big Marvel villain, this is set to be an epic encounter for the tiniest Avenger.
Hon yw ffilm ddiweddaraf Bydysawd Sinematig Marvel. Mae'n antur sydd wedi'i lleoli yn y Deyrnas Cwantwm. Mae Paul Rudd, Michelle Pfeiffer, Michael Douglas ac Evangeline Lilly yn dychwelyd fel teulu sydd, gyda help technoleg wych, yn caniatáu iddynt dyfu, neu grebachu, i gyd-fynd â'r heriau y maent yn eu hwynebu. Y tro hwn maen nhw'n cwrdd â Kang y Concwerwr, gwrthwynebydd sy'n teithio trwy amser ac sydd wedi'i ddal, ynghyd ag Ant-Man, yn y byd Cwantwm. Dywedir mai hwn fydd dihiryn mawr nesaf Marvel, ac mae her epig yn wynebu'r Avenger lleiaf.