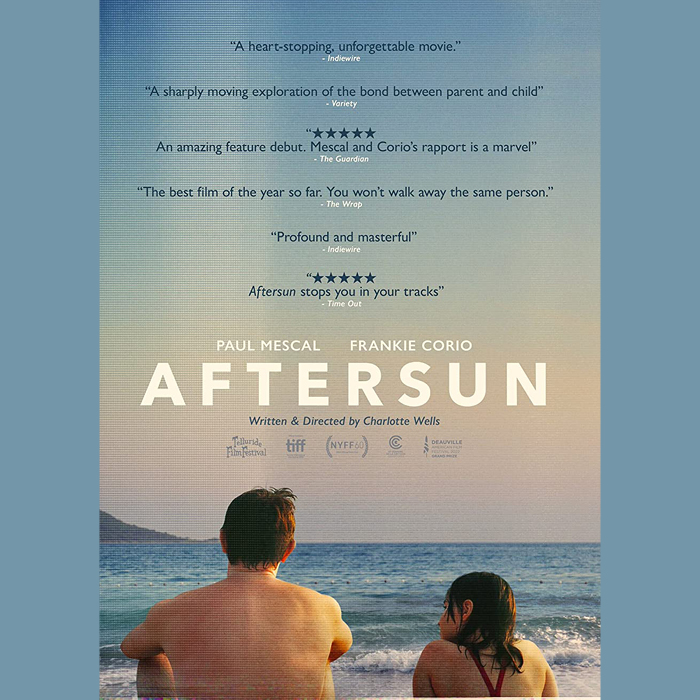 Fishguard Film Society
AFTERSUN (15)
Director: Charlotte Wells, UK and US, 2022, 15, 102m – Charlotte Wells, y DU ac UDA, 2022, 15, 102m
At a fading vacation resort, 11-year-old Sophie treasures rare time together with her loving and idealistic father, Calum (Paul Mescal). Twenty years later, Sophie's tender recollections of their last holiday become a powerful and heartrending portrait of their relationship.
Winner of the French Touch Jury Prize at the Cannes 2022 Critics' week, this stunning debut from Scottish writer-director Charlotte Wells, juxtaposes a hopeful coming-of-age story with a poignant, intimate family portrait that leaves an indelible impression.
Mewn llecyn gwyliau hen ffasiwn, mae Sophie, sy'n 11 oed, yn trysori amser prin ynghyd â'i thad cariadus, Calum (Paul Mescal). Ugain mlynedd yn ddiweddarach, mae atgofion gwerthfawr Sophie o'u gwyliau olaf gyda'i thad yn dod yn bortread pwerus a chynnes o'u perthynas.
Enillydd y 'French Touch Jury Prize' yn wythnos Beirniaid Cannes 2022, mae'r ffilm cyntaf syfrdanol hwn gan yr awdur-gyfarwyddwr o'r Alban, Charlotte Wells, yn cyfosod stori obeithiol o brifiant gyda phortread teuluol ingol, agos-atoch sy'n gadael argraff annileadwy.