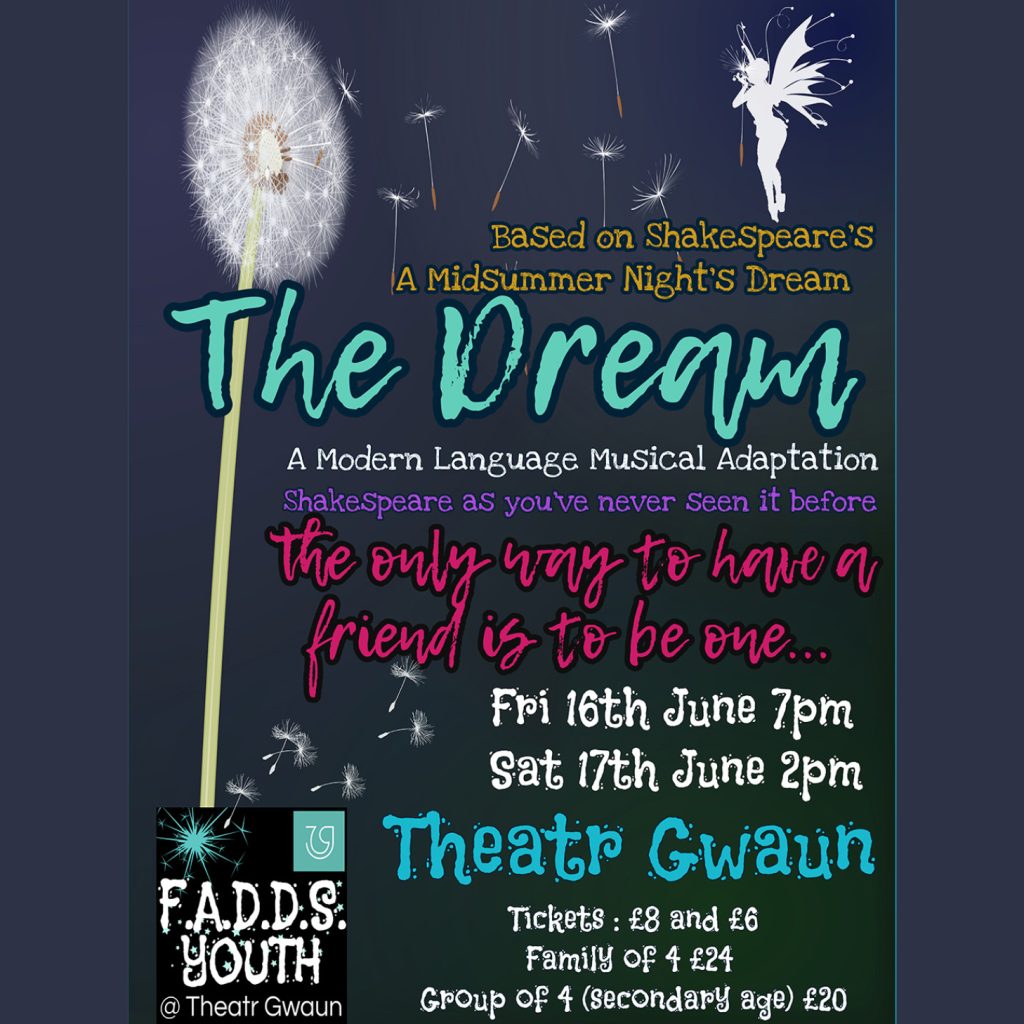 FADDS Youth Present The Dream
Ever thought Shakespeare was boring? Ever wondered what they were talking about? Ever wondered what all the Shakespeare fuss was about?
Well then come along and see FADDS Youth answer those very questions! Based on Shakespeare's best known play A Midsummer Night's Dream. Our Dream tackles the world of young friendship, is in modern day language and even has a few songs thrown in for good measure! Bright, colourful, funny, sad, funny again our young people bring you Shakespeare like you've never seen it before. We guarantee you'll see the great bard in a different light but don't take our word for it, come and see for yourself… Fairies, Pixies, Friendship and a Park after dark, what could possibly go wrong!
Ydych chi erioed wedi meddwl bod Shakespeare yn ddiflas? Ydych chi erioed wedi meddwl am beth roedden nhw'n siarad? Ydych chi erioed wedi meddwl beth oedd yr holl ffwdan am Shakespeare? Wel, dewch draw i weld sioe FADDS sy'n ateb yr union gwestiynau yna!
Yn seiliedig ar ddrama fwyaf adnabyddus Shakespeare – A Midsummer Night's Dream. Mae Our Dream yn mynd i'r afael â byd cyfeillgarwch yr ifanc, mewn iaith fodern ac mae ganddi ychydig o ganeuon hefyd! Yn ddisglair, lliwgar, doniol, trist, doniol eto, mae ein pobl ifanc yn dod â Shakespeare i chi fel nad ydych erioed wedi'i weld o'r blaen. Rydym yn gwarantu y byddwch yn gweld y bardd mawr mewn golau gwahanol. Ond peidiwch â chymryd ein gair ni, dewch i weld drosoch eich hun… Tylwyth Teg, Corachod, Cyfeillgarwch a Pharc ar ôl iddi dywyllu, beth allai fynd o'i le!