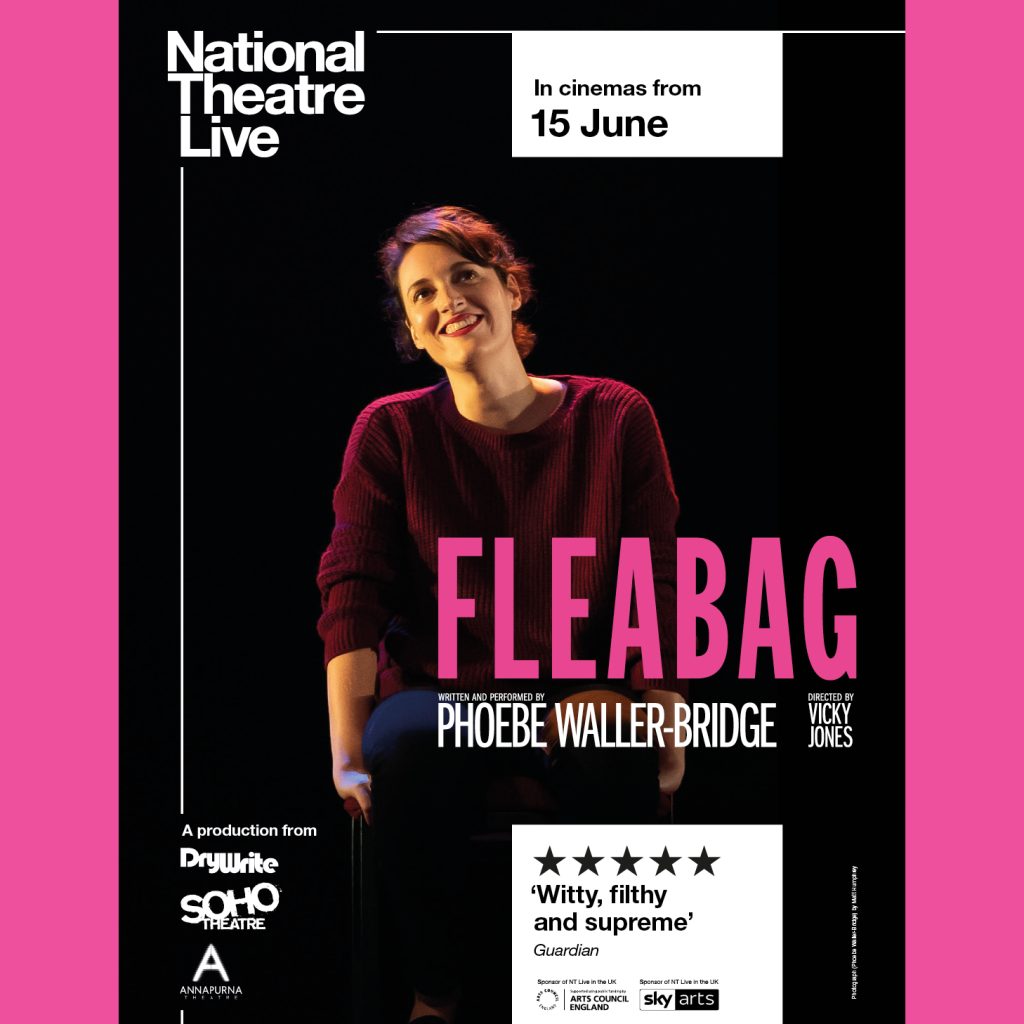 Fleabag (15)
Written and performed by Phoebe Waller-Bridge
Directed by Vicky Jones
★★★★★
'Witty, filthy and supreme.' Guardian
Written and performed by Phoebe Waller-Bridge (Fleabag, Killing Eve) and directed by Vicky Jones, Fleabag is a rip-roaring look at some sort of woman living her sort of life. Following a box-office record-breaking run in cinemas in 2019, the one-woman show returns to cinemas to the big screen this summer.
Fleabag may seem oversexed, emotionally unfiltered and self-obsessed, but that's just the tip of the iceberg. With family and friendships under strain and a guinea pig café struggling to keep afloat, Fleabag suddenly finds herself with nothing to lose.
The hilarious, award-winning play that inspired the BBC's hit TV series Fleabag, was filmed live on stage in London's West End in 2019.
Presented by DryWrite, Soho Theatre and Annapurna Theatre.
Wedi'i hysgrifennu a'i pherfformio gan Phoebe Waller-Bridge (Fleabag, Killing Eve) a'i chyfarwyddo gan Vicky Jones, mae Fleabag yn olwg gyfrwys ar fath arbennig o fenyw yn byw math arbennig o fywyd. Yn dilyn llwyddiant y ffilm yn y sinemâu yn 2019, mae'r sioe un fenyw hwn yn dychwelyd i'r sgrin fawr yr haf hwn.
Mae'n bosibl bod Fleabag yn ymddangos yn or-rywiol, yn emosiynol, heb ei hidlo ac yn hunan-obsesiwn, ond dim ond dechrau yw hynny. Gyda theulu a chyfeillgarwch dan straen a chaffi moch cwta yn brwydro i ddal i fynd, mae Fleabag yn canfod ei hun yn sydyn heb ddim i'w golli.