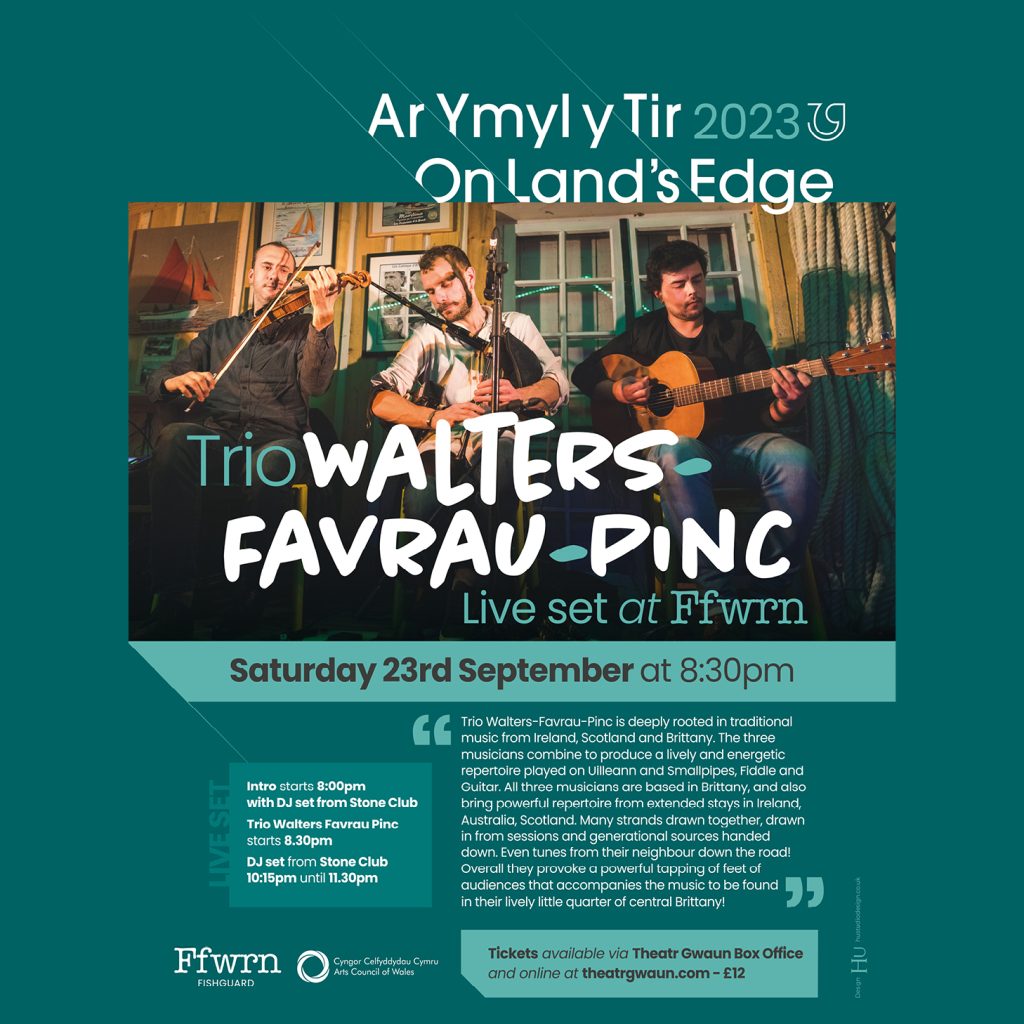 Ar Ymyl y Tir 2023 On Land's Edge – Trio Walters-Favrau-Pinc Live at Ffwrn
Trio Walters-Favrau-Pinc is deeply rooted in traditional music from Ireland, Scotland and Brittany. The three musicians combine to produce a lively and energetic repertoire played on Uilleann and Smallpipes, Fiddle and Guitar. All three musicians are based in Brittany, and also bring powerful repertoire from extended stays in Ireland, Australia, Scotland. Many strands drawn together, drawn in from sessions and generational sources handed down. Even tunes from their neighbour down the road! Overall they provoke a powerful tapping of feet of audiences that accompanies the music to be found in their lively little quarter of central Brittany!
Yn Fyw yn Ffwrn
Mae'r Triawd Walters-Favrau-Pinc wedi'i wreiddio'n ddwfn mewn cerddoriaeth draddodiadol o Iwerddon, yr Alban a Llydaw. Mae'r tri cherddor yn cyfuno i gynhyrchu repertoire bywiog ac egnïol sy'n cael ei chwarae ar Bibau Uilleann a Phibau Bach, Ffidl a Gitâr.
Mae'r tri cherddor wedi'u lleoli yn Llydaw, ond maent hefyd yn dod â repertoire pwerus o'u teithiau yn Iwerddon, Awstralia, a'r Alban. Maent wedi eu hysbrydoli gan llinynnau traddodiad sydd wedi'u tynnu at ei gilydd o sesiynau ac o ffynonellau amrywiol dros sawl cenhedlaeth….. a hyd yn oed gan alawon gan gymydog i lawr y ffordd! Ar y cyfan, mae eu halawon pwerus yn ysgogi cynulleidfaoedd i ymuno â'r rhythm a mwynhau cerddoriaeth â blas pridd canol Llydaw!