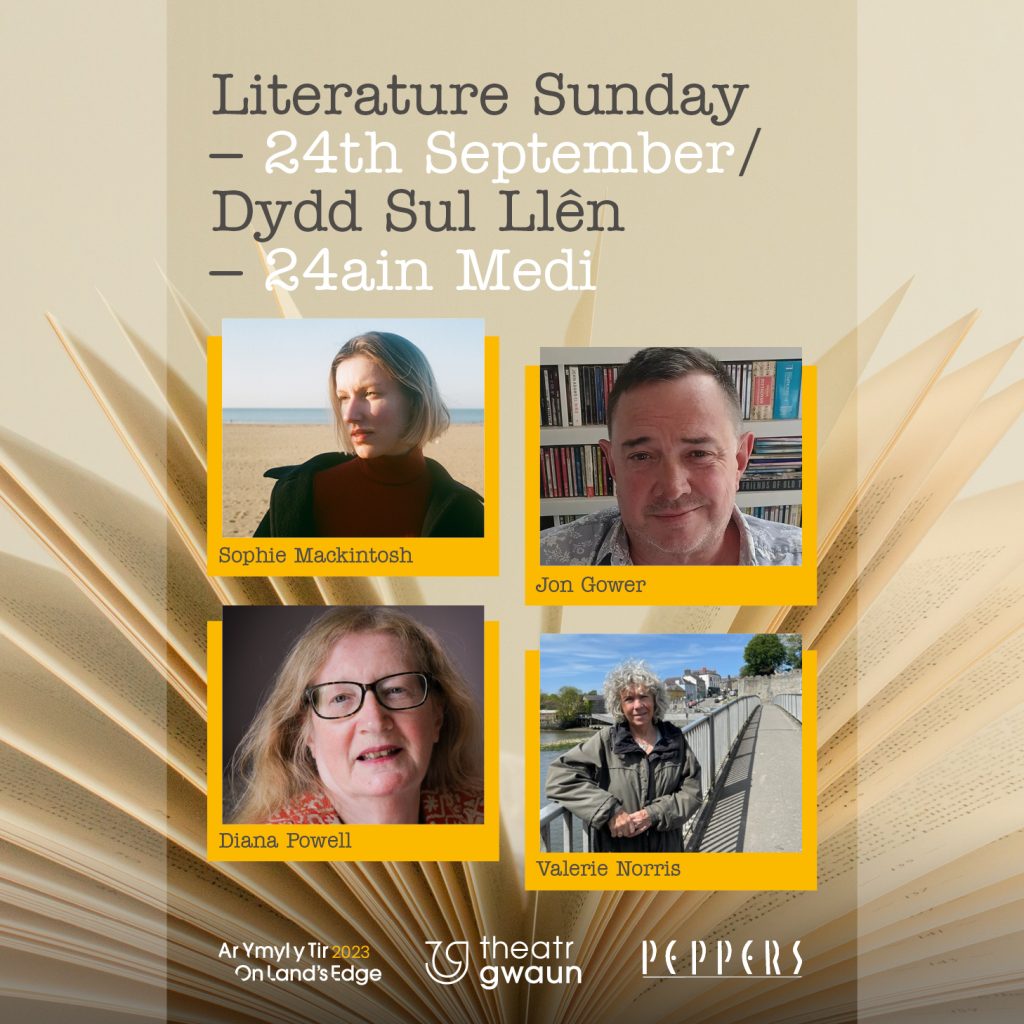 Ar Ymyl y Tir 2023 On Land's Edge – Literature Sunday at Peppers
The last day of the festival as usual features literature, with guest authors from near and far. This year the lineup is headed by Sophie Mackintosh, recently chosen as one of Granta's '20 best British novelists under 40'. Sophie grew up locally and attended Ysgol Bro Gwaun. Her first novel The Water Cure was long listed for the Man Booker Prize. Her third, Cursed Bread, was published earlier this year. Sophie will be leading a writers' workshop on Sunday morning, and in the afternoon will read from her work and discuss it with Sue Lewis (a local journalist and festival organiser).
Our second guest author is Jon Gower, a regular at On Land's Edge. Jon will also lead a writers' workshop, in Welsh for those who are interested in writing in the language. In the afternoon he will follow Sophie, reading and talking with Mike Lewis (also a local journalist and author of the novel 'If God Will Spare My Life…'). The conversation will inevitably focus on the most recent of Jon's many books, The Turning Tide: A Biography of the Irish Sea.
Finally we have two writers from West Wales – Diana Powell and Valerie Norris. Mathry-based, Diana appeared at On Land's Edge last year. She has won several prizes for her short stories and recently published a novel, Things Found on the Mountain. Valerie is from Swansea, where she was a Professor of Engineering until she retired in 2013. Since then she has published four novels, the latest being Further Beyond which came out earlier this year. Diana and Valerie will be in conversation together with Mike Ponsford, a local writer and creative writing tutor.
Ar Ymyl y Tir 2023 On Lands Edge – Sul Llenyddiaeth Peppers
Mae diwrnod olaf yr ŵyl fel arfer yn cynnwys llenyddiaeth, gydag awduron gwadd o bell ac agos. Eleni mae Sophie Mackintosh, a ddewiswyd yn ddiweddar fel un o '20 nofelydd Prydeinig gorau o dan 40 oed' Granta yn arwain y rhaglen. Tyfodd Sophie i fyny yn lleol a mynychodd Ysgol Bro Gwaun. Roedd ei nofel gyntaf "The Water Cure" ar restr hir Gwobr "Man Booker". Cyhoeddwyd ei thrydydd, "Cursed Bread" yn gynharach eleni. Bydd Sophie yn arwain gweithdy awduron fore Sul, ac yn y prynhawn bydd yn darllen o'i gwaith ac yn ei drafod gyda Sue Lewis (newyddiadurwr lleol a threfnydd yr ŵyl).
Ein hail awdur gwadd yw Jon Gower, sy'n ymddangos yn rheolaidd yn ein gwyl. Bydd Jon hefyd yn arwain gweithdy awduron, yn y Gymraeg, ar gyfer y rhai sydd â diddordeb mewn ysgrifennu yn yr iaith. Yn y prynhawn bydd yn dilyn Sophie, yn darllen ac yn sgwrsio gyda Mike Lewis (hefyd yn newyddiadurwr lleol ac awdur y nofel 'If God Will Spare My Life…'). Mae'n anochel y bydd y sgwrs yn canolbwyntio ar y diweddaraf o blith nifer o lyfrau Jon, "The Turning Tide: A Biography of the Irish Sea".
Yn olaf mae gennym ddau awdur o Orllewin Cymru – Diana Powell a Valerie Norris. Ymddangosodd Diana, o Mathri, yn yr wyl y llynedd. Mae hi wedi ennill sawl gwobr am ei straeon byrion ac yn ddiweddar cyhoeddodd nofel, "Things Found on the Mountain". Daw Valerie o Abertawe, lle bu'n Athro Peirianneg nes iddi ymddeol yn 2013. Ers hynny mae wedi cyhoeddi pedair nofel, a'r ddiweddaraf yw "Further Beyond" a ymddangosodd yn gynharach eleni. Bydd Diana a Valerie yn sgwrsio gyda Mike Ponsford, awdur lleol a thiwtor ysgrifennu creadigol.