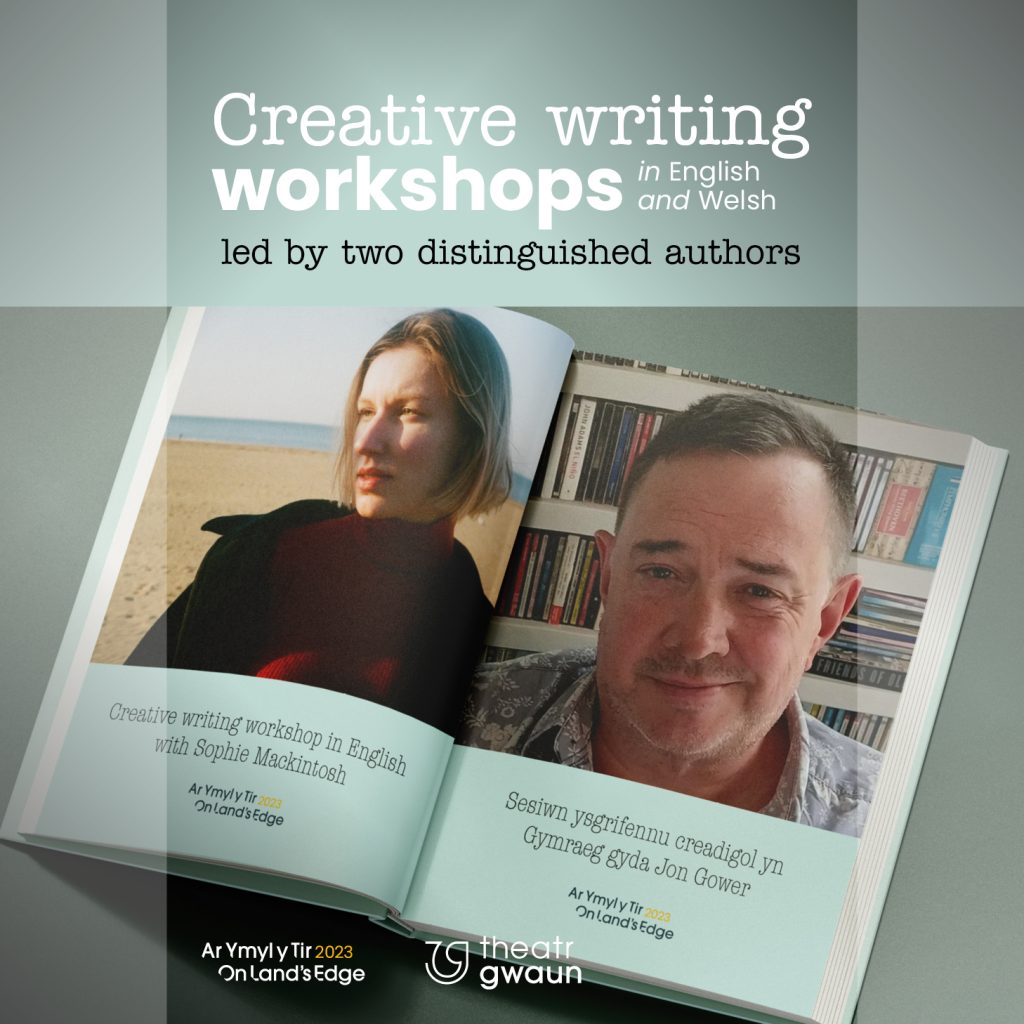 Creative Writing Workshops
Distinguished authors, Sophie Mackintosh and Jon Gower will be leading Creative Writing Workshops as part of our Literary morning. Join them at Theatr Gwaun on Sunday 24th at 10:00am for a 2 hour workshop, delivered in English by Sophie and in Welsh by Jon. Spaces for these workshops are limited to 10 attendees for each of the sessions, so early booking is stongly advised.
Sophie Mackintosh
Sophie's workshop will focus on writing short fiction, with a mixture of discussion about what makes a compelling short story, writing exercises, and playful prompts to get you thinking about your work. Attendees will come away with new ideas, a greater sense of what hooks us in a short story, and hopefully some writing to build upon and develop into future work.
Gweithdai Ysgrifennu Creadigol
Dan arweiniad dau awdur nodedig, Sophie Mackintosh a Jon Gower, bydd y Gweithdai Ysgrifennu Creadigol yn digwydd yn ystod ein Bore Llenyddol. Ymunwch â nhw yn Theatr Gwaun ar Ddydd Sul 24ain am 10:00yb ar gyfer gweithdy 2 awr, wedi ei gyflwyno yn Saesneg gan Sophie ac yn Gymraeg gan Jon. Mae lleoedd ar gyfer y gweithdai hyn wedi'u cyfyngu i 10 o fynychwyr ar gyfer pob un o'r sesiynau, felly fe'ch cynghorir yn gryf i archebu lle'n gynnar.
Jon Gower
Sesiwn hwyliog fydd yn cynnig cyfle i ystyried beth sy'n gwneud stori dda a gofyn sut i ddod o hyd i ambell un o fewn ein bywydau ein hunain. Bydd Jon yn rhannu ambell gyfrinach ynglŷn â sut i lunio darn o ryddiaith, sut i ychwanegu lliw a defnyddio'r annisgwyl a lwc yn y broses o 'sgrifennu, Bydd e' hyd yn oed cynnig gwers syml ynglŷn â sut i weithio wrth gysgu'n sownd!