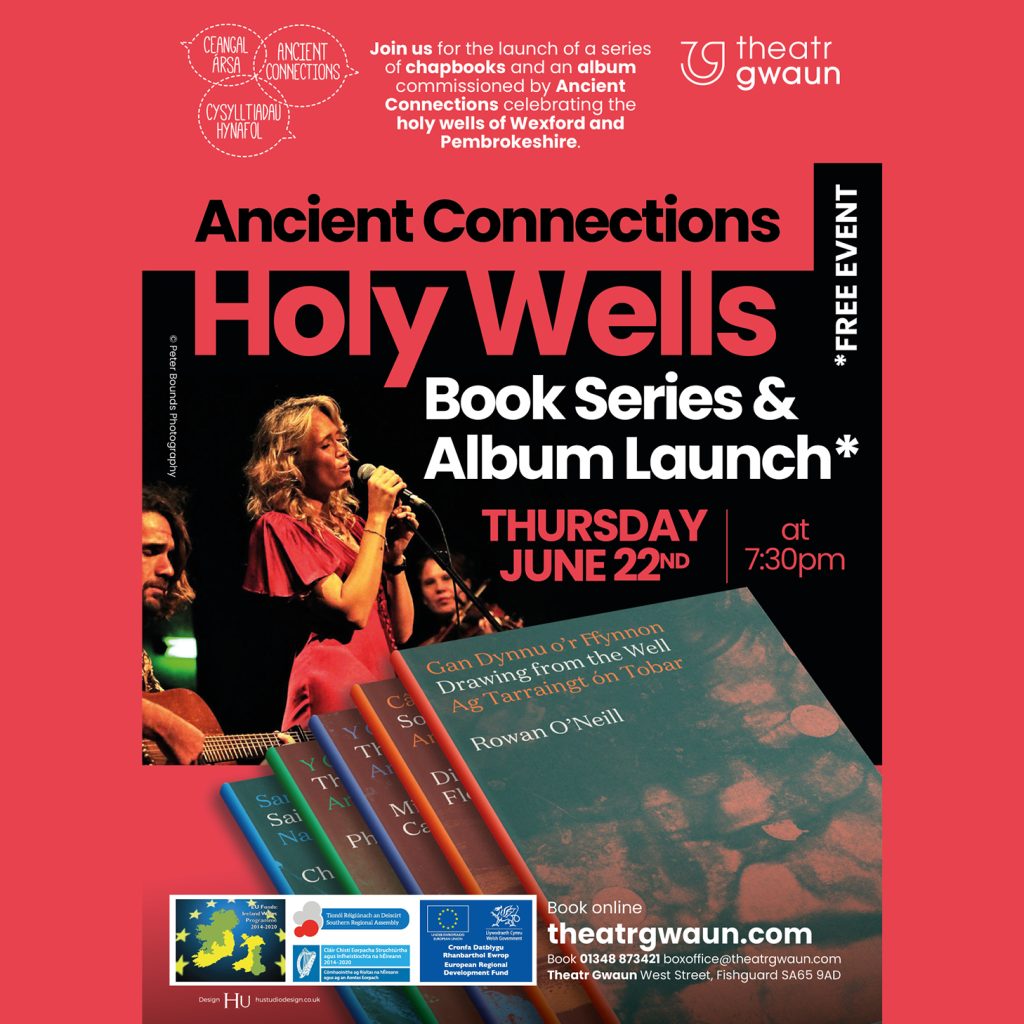 ANCIENT CONNECTIONS HOLY WELLS BOOK SERIES AND ALBUM LAUNCH
FREE EVENT
Join us to celebrate the launch of Holy Wells of Wexford and Pembrokeshire, a trilingual series of chapbooks commissioned by Ancient Connections and published by Parthian. Each book approaches wells from a different perspective and includes essays, poems and short stories alongside photographs and prints by contributors from Wales and Ireland.
Jo MacGregor and Dan Messore along with musicians from both sides of the Irish Sea will perform songs from their new album Voice of the Wells, inspired by their visits to holy wells in Wexford and Pembrokeshire and the people they met along the way.
Ymunwch â ni i ddathlu lansiad Ffynhonnau Sanctaidd o Wexford a Sir Benfro, cyfres deirieithog o lyfrau a gomisiynwyd gan Ancient Connections ac a gyhoeddwyd gan Parthian. Mae pob llyfr yn adlreurchu gwahanol bersbectif ac yn cynnwys ysgrifau, cerddi a straeon byrion ochr yn ochr â ffotograffau a phrintiau gan gyfranwyr o Gymru ac Iwerddon. Bydd Jo MacGregor a Dan Messore ynghyd â cherddorion o'r ddwy ochr i Fôr Iwerddon yn perfformio caneuon o'u halbwm newydd Voice of the Wells, a ysbrydolwyd gan eu hymweliadau â ffynhonnau sanctaidd yn Wexford a Sir Benfro a'r bobl y gwnaethant gyfarfod â nhw ar hyd y daith.