Support the On Land's Edge festival
Each event can be booked individually
Use the ticket buttons below – events are being brought online daily so please check again soon if your chosen event isn't yet available.
Time: 7.00pm
Location: Theatr Gwaun
Tickets: £10.00

Gwaun Trio / Triawd Gwaun – Chamber Music Performance
The Gwaun Trio perform music by Vivaldi, Maxwell Davies and Piazzolla.
Autumn & Winter from Vivaldi's The Four Seasons begins the programme, woven together with sonnets Haf & Gaeaf from 'Y Tymborau' written by Welsh poet Mererid Hopwood.
The concert ends with Farewell to Stromness by Peter Maxwell Davies and Tangos by the Argentinian composer, Astor Piazzolla; both composers holding a deep sense of home and place in the world in these hauntingly beautiful compositions.
Three of Pembrokeshire's finest classical musicians, Nia Harries (cello), Lorna Osbon (violin), and Matthew Bale (piano), came together as a 'bubble' during lockdown. Their first performance was given at Rhosygilwen in December 2020 to celebrate Beethoven's 250th anniversary.
Nia, Lorna and Matthew value their close connection with local artistic projects, performing for the 'On Land's Edge' Festival at Theatr Gwaun, and a fundraising concert for the Ukraine Appeal, which raised over £2000.
Nia was born and brought up in Pembrokeshire, and Matthew & Lorna fell in love with the area after spending their honeymoon at Cnapan in 1985, moving permanently to Abergwaun in 2020. Members of Gwaun Trio consider themselves very fortunate to have found each other; one of the good things to come out of lockdown!
Future Gwaun Trio Concerts:
2023: All Saints Church, Bristol.
22 October 2022: Rhosygilwen. A concert of words & music with Mererid Hopwood.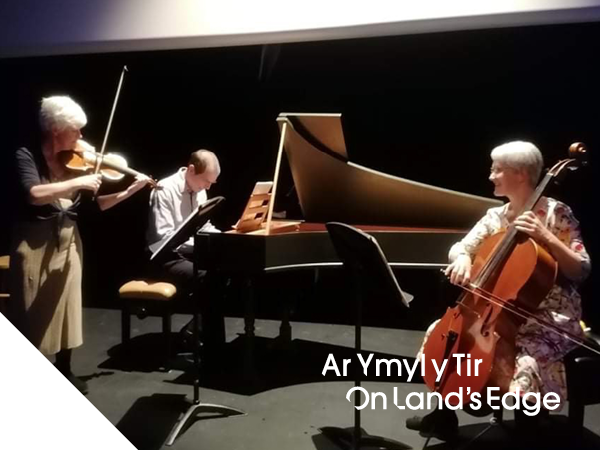 Time: 8.30pm
Location: Theatr Gwaun
Tickets: £10.00
Spirit of Water, Heart of Stone
Deb Winter and Gill Stevens – Storytelling and Improvised Musical Performance
Creation myth and climate change were stirred together in the cauldron and the boiling liquid spat these two stories out. United by a deep love of nature, award-winning storyteller Deb Winter and musician/composer Gill Stevens share two powerful stories with passion, urgency and insight into the human condition. Deb's inventiveness with words is matched by Gill's creativity on the viola da gamba to give you an immersive experience that speaks to the heart, challenges borders and embraces 'the other'.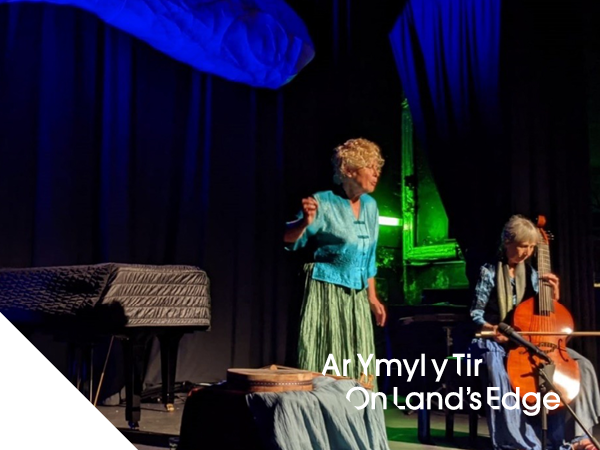 Time: 7.00pm
Location: Theatr Gwaun
Tickets: £10.00

Coracles and Crime
with Clogs On
A Play for Voices and Soundscape at Theatr Gwaun
'Icescape,' painting by Brenda Squires 
Adapted by Anne Garside from the novel The Coracle and the Cathedral by Dewi Rhys-Jones, the play has a dramatic plot. A gang of pirate canoeists have stolen the Landsker Line.  The Sergeant, who is in charge of a Metaverse Coracle crewed by The Parrot, must track the criminals down.  Megan heads the subversive Machlud y Wawr, Bronwen leads the Crymych Ultra Cloggers into battle, and strange things happen as a Richard Bros. bus journeys through various Pembrokeshire landscapes and time warps.
Jon Gower will moderate a Q&A session with Dewi prior to the performance.  Signed copies of The Coracle and the Cathedral, published under the pen name Sylvanus, will be available for purchase.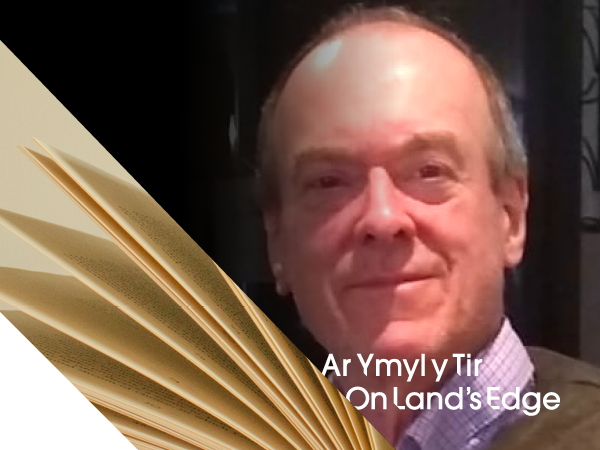 Time: 8.30pm
Location: Theatr Gwaun
Tickets: £10.00

Dan and Jo Messore
Live music from their album
Pre concert conversation with writer Diana Powell and Jo on Holy Wells in the area.
'The Song of the Water'
'The Song of the Water' is a chapbook by prize-winning Mathry author, Diana Powell, containing two short stories set at North Pembrokeshire's Holy Wells. It is one of a series commissioned by Ancient Connections, to introduce a new, imaginative perspective on the wells that appear along its pilgrim trail (The Wexford – Pembrokeshire Pilgrim way).
The sites featured are St. Non's, on the cliffs above St. David's, and St. Gwyndaf's (St. Wnda) in Llanwnda, north of Goodwick – two inspiring settings, where these well-springs reflect the spirit of the place.
Like Jo Messore, Diana's aim is to draw attention to the feminine aspect of these sacred spaces, and to focus on the life-affirming power of water, from ancient through Christian times – 'a space to seek your truth'.
Diana's work is accompanied by illustrations by Flora McLachlan, together with a Welsh translation, and will be published shortly by Parthian, along with the others in the series.
VOW (Voice of the Wells) is a cross border concept album connecting with sacred spaces in Ireland and Wales. The project is part of Ancient Connections and takes us on a journey through some of the Wells on the pilgrimage walk through Wexford and North Pembrokeshire. The album is contemporary and dynamic – somewhere between rock, prog and folk – and weaves its way through ancient Celtic tales surrounding the well sites. There is a strong feminine narrative throughout the songs, bringing back a vital element that was written out of history, in hope of encouraging much needed connection with special places in nature. Each song is based on an original improvisation at each well site, drawing on the energy, resonance and story of the land.
Joanna MacGregor Messore and Dan Messore, collaborating with musicians from Ireland and Wales.
Violin – Lucy Rivers
Guitar – Dan Messore
Bass – Ciaran Oman
Drums – Gethin Jones
Vocals- Joanna Messore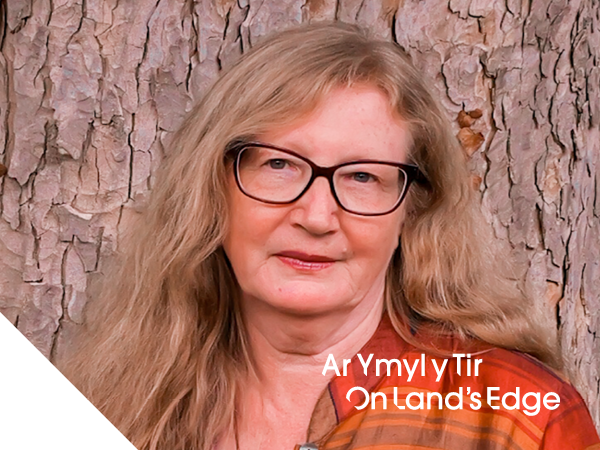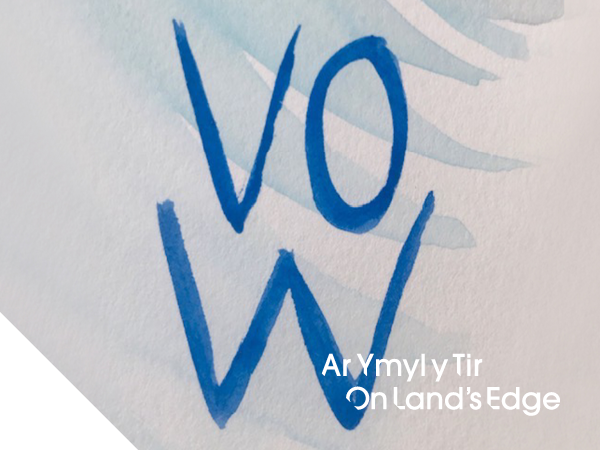 Time: 11.00am – 12.45pm
Location: Theatr Gwaun (Martha's and the Green Room)
FREE EVENT

Creative writing workshops – in English and Welsh, led by two distinguished Welsh authors
Creative writing in English – workshop with Phil Carradice:
This will be a session on the theme of "Writing Off-Centre", looking at the various ways of approaching a subject obliquely. There will be a presentation by Phil, followed by the class's writing of short pieces in that manner. This is a change to the previous advertisement; Robert Nisbet is unfortunately unavailable, but we are delighted that Phil Carradice has agreed to replace him.
Sesiwn ysgrifennu creadigol yn Gymraeg gyda Jon Gower:
Bydd yr awdur Jon Gower yn trafod ei waith gan chwilio am bethau defnyddiol i awdur. Bydd cyfle i ddefnyddio'r rhain wrth lunio darn o ryddiaith neu gerdd eich hunan. Bydd y sesiwn yn addas ar gyfer dysgwyr a'r gobaith yw y byddwn yn cyflwyno'r gwaith ar ddiwedd y gweithdy. (Tr: also suitable for learners.)
And at 1.00pm in the auditorium –
FISHGUARD TALES: A play for voices about the Last Invasion in 1797
Written and performed by members of Robert Nisbet's creative writing group (Fridays in term time in Theatr Gwaun)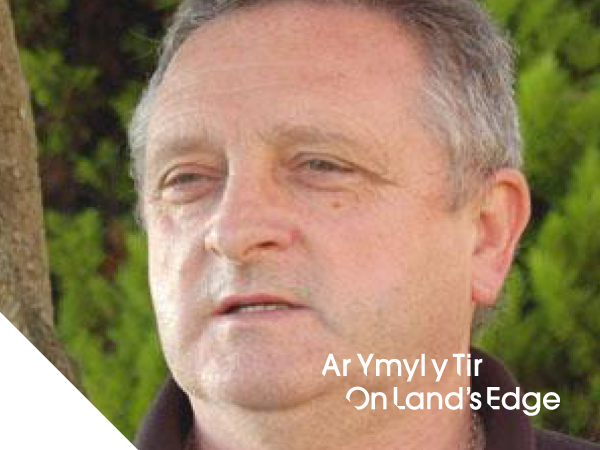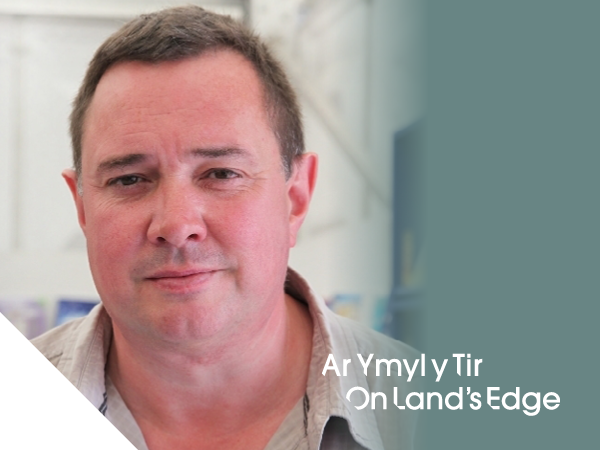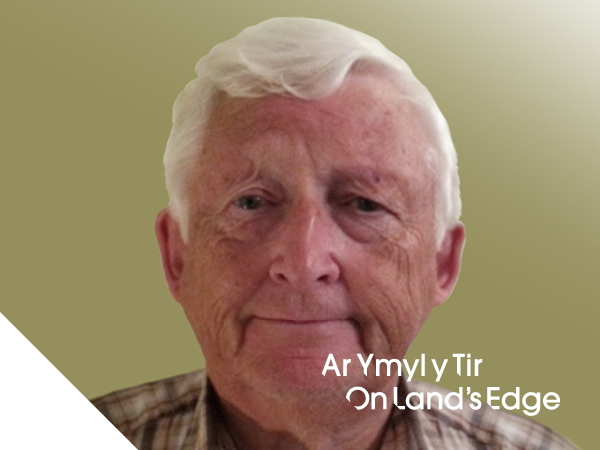 Time: 12.00pm
Location: Peppers Gallery
FREE EVENT
Christine Kinsey – Book Launch & Exhibition (H'mm Foundation)
The launch of a new book,"HON Artistiaid Benywaidd yng Nghymru / Women Artists in Wales" which features the work of ten women artists from all over the country. The book is being published with  a hard cover, full colour images and will be bilingual. The publisher is Ali Anwar of The H'mm Foundation and the launch will include a discussion of their work by local artists Sarah Williams, Julia Griffiths-Jones and Christine Kinsey."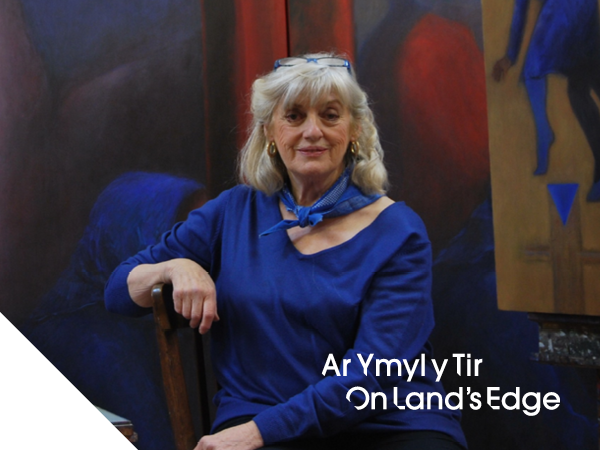 A special combined ticket of £15.00 covers these three events:
BRASS ON THE BREAK WATER, BELOW GROUND & A FREQUENCY AT LAVERNOCK / AMLEDD YN LARNOG

Time: 2.30pm
Location: Goodwick Parrog – East Breakwater
Tickets: £15.00

Pre-performance talk by Sid Howells on the geology of Fishguard Bay followed by Jobina Tinnemans and Goodwick Brass Band – Newly commissioned contemporary music performance.
Following up from last year's inaugural On Land's Edge festival whereby Jobina Tinnemans created a work for brass at the Strumble Head lighthouse, where we could all listen to the magnificent environmental soundscape on Pen Caer from Llanwnwr farm, this new work for the Goodwick Brass band, situated on the Fishguard Harbour breakwater, is another celebration of the beautiful sounds found on our Pembrokeshire coast.
When the Stena Line ferry hoots you can hear sound echoing from Goodwick and Fishguard Harbour into the far distance. Goodwick Brass will be playing on the public breakwater in the harbour in a new work by Jobina Tinnemans full of hooting and echoes. You can walk onto the breakwater to listen, sit at the Parrog or watch from your kayak or sailing boat. It's going to be a spectacle not to be missed!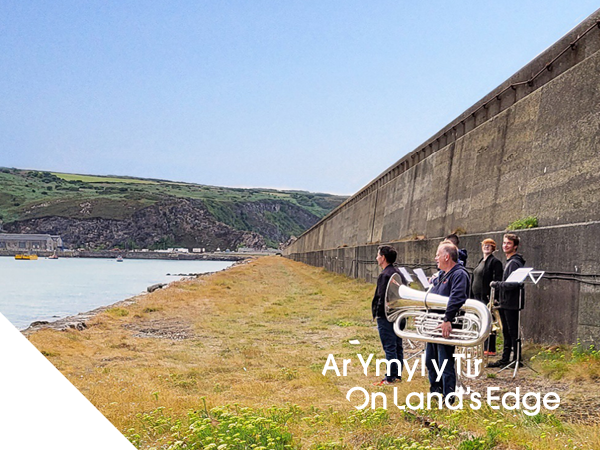 Time: 4.30pm
Location: Tregwynt Mansion (Tregwynt Mansion, Granston, SA62 5UU)
Molly Macleod – Live soundscape inspired by the area of Pencaer Peninsula performed at Tregwynt Mansion (Tregwynt Mansion, Granston, SA62 5UU).
Ever wondered what it sounds like underground? The earth beneath our feet is a secret sonic world of worms, grubs and roots rummaging around underneath us.
Come and lie down on the earth and listen to the soil.
The audience is invited to take a blanket and find a space within the grounds of Tregwynt Mansion and listen to the sounds of the soil beneath them through wireless headphones provided. Below Ground is a sonic a journey from the dark musty depths of the forest floor, filled with munching and gurgling insects to the high desolate cliffs of the coastal path where the long dry grass acts as an amplifier for the wind, feeding the sound down into its root systems beneath.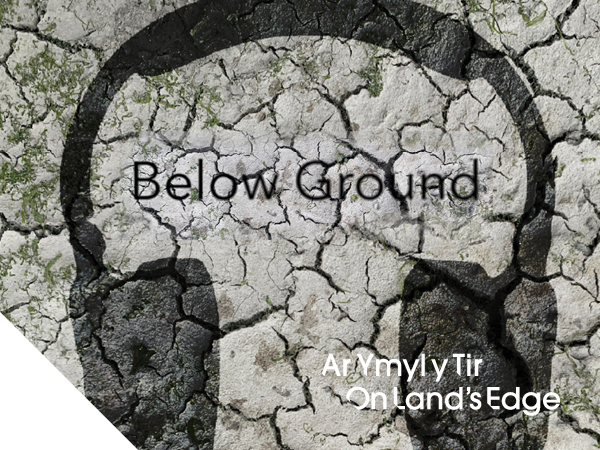 Location: Tregwynt Mansion (Tregwynt Mansion, Granston, SA62 5UU)
A Frequency At Lavernock /

Amledd Yn Larnog
A 360 virtual reality experience in Welsh and English from award-winning filmmaker Tracy Spottiswoode, together with sound artist Marie Tueje and performers Marega Palser, Mary-Anne Roberts and Gareth Clark.
On May 13 1897, Italian inventor Gugliemo Marconi, working with Cardiff Post Office engineer George Kemp, transmitted and received the first ever wireless signals in Morse Code over open water between Flat Holm Island and Lavernock Point on the coast of south Wales.
It was the beginning of modern communications technology. One of the messages was: 'ARE YOU READY?'
Inspired by Marconi's experiment, A Frequency At Lavernock / Amledd Yn Larnog takes the audience on a mesmerising, mysterious and dreamlike journey, layered with the history, mythology, language and nature of the area surrounding Lavernock.
Devised as a site specific performance piece for a single audience member, intended to offer solace in a time of isolation, A Frequency At Lavernock / Amledd Yn Larnog combines the Celtic tradition of spinning a yarn with the surreal visual appeal of Eastern European fairytales.
The VR headset is a portal, transporting the viewer into a world where guests are invited to commune in rituals both familiar yet strange, embarking on an emotional and evocative journey through the many storied layers of this real and magical place.
Please Note: Places for the VR experience are limited, so to avoid disappointment, please book a slot ahead of the event by calling the Box Office on 01348 873421.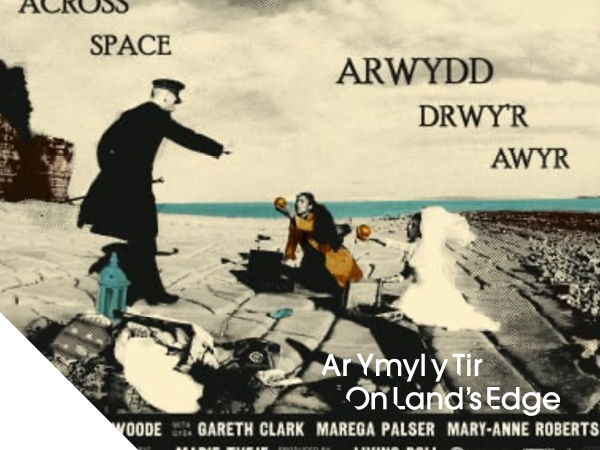 Time: 7.00pm
Location: Theatr Gwaun
Tickets: £10.00

Derek Webb's Play – Breathing Hope
Could the skull of a 6th century Welsh saint cure Covid?
During Victorian times that people travelled from all over Wales to the tiny hamlet of Llandilo, near Maenclochog, to drink water from St Teilo's Well in the hope of being cured of TB and other respiratory diseases – but only if the water was drunk from the ancient skull of St Teilo.
Breathing Hope looks at this fascinating story through the eyes of a modern couple and the Victorian family who were guardians of the skull.  The play raises many questions in this age of Covid about the nature of belief and proposed cures for such diseases, as well as the current rise of conspiracy theories and anti-vaccination movements, also prevalent in the 1800s.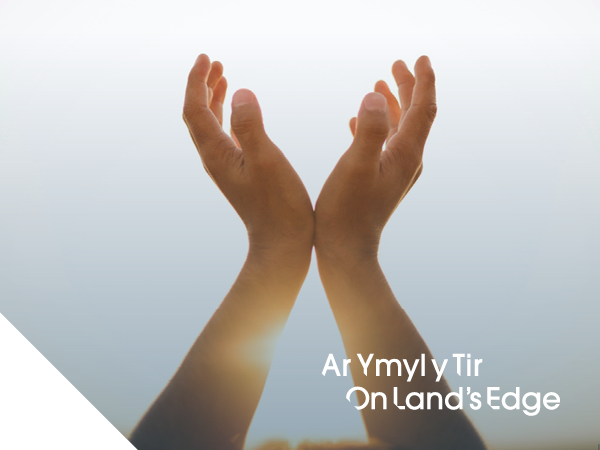 Time: 9.00pm
Location: Theatr Gwaun
Tickets: £10
Mike Parker – The (very) Rough Guide to Wales
In the 1990s, a young Mike Parker came to Wales to write the inaugural Rough Guide.  He soon realised that the guide book version of Wales was a pale shadow of the real thing, especially after moving here.  This illustrated show shunts travel writing into comedy, poetry, politics and art, asks a load of big questions and probably fails to find the answers to any of them.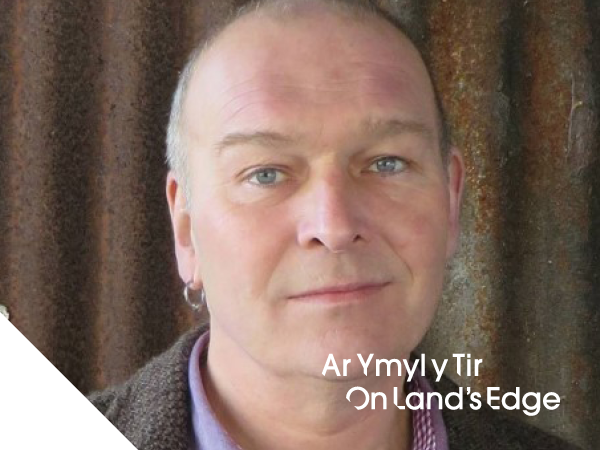 Time: 10.00am
Location: Point/Fishguard
FREE EVENT
Join Musician David Pepper & Sound Artist Molly Macleod for an intimate sound walk in and around the town of Fishguard. We will begin the Sound walk at Point at the back of the old market hall and explore old roads & lanes leading us down to the river Gwaun as we move from a Town environment to a more natural soundscape of Lowertown Woods.
Molly Macleod is a multidisciplinary artist exploring scientific concepts through collaborative projects with researchers and scientists. Through poetic interpretation and distilling meaning via her use of unconventional, signifying materials, her artwork invites intimate and philosophical engagement combined with accessible simplicity. Locating her practice within the liminal space between art and science she employs the scientific method to examine and question cultural phenomena.
Molly has grown crystals that hear sounds, cultured the microbial imprint of TATE Modern visitors, formed pigment from her own skin, created a microphone out of carbon from her own body, revealed the sonic world from within trees and walked new paths formed by the patterns of her own veins.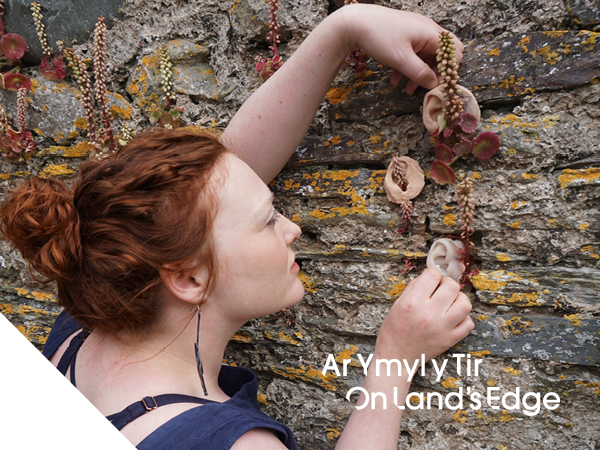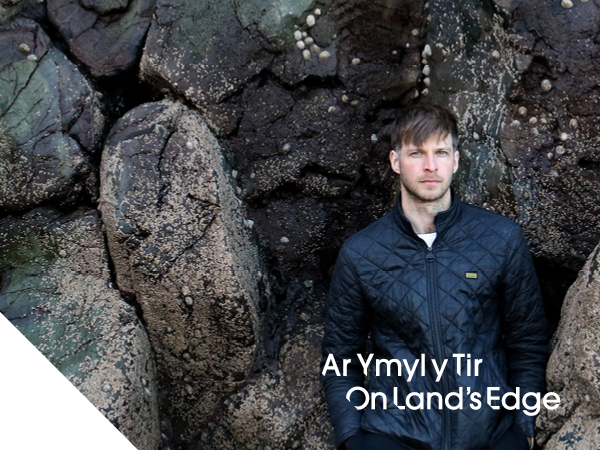 Time: 10.00am
Location: Peppers
Tickets: £5.00
Welsh Tales,
A Literary Morning
Welsh language writers Geraint Lewis and Jon Gower discuss their new work, Lloerig and Y Diwedd. Lewis' novel is an emotionally impactful account of a mother's loss while Gower's police procedural, published this week, concludes a popular if dark trilogy.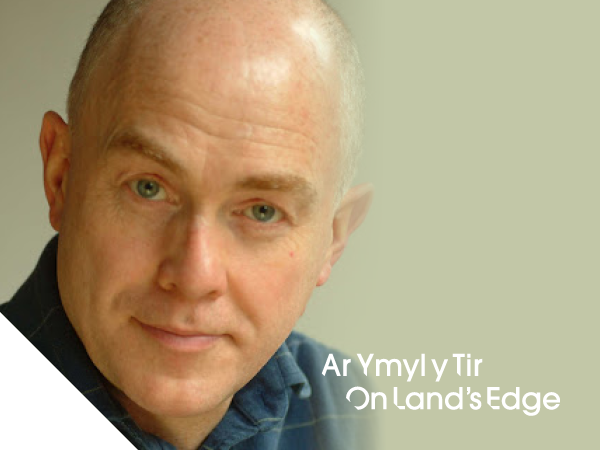 Time: 11.00am
Location: Theatr Gwaun
Tickets: £5.00
Join us for a very civilised Sunday morning as award-winning writer Mike Parker discusses his work – including the utterly brilliant On the Red Hill – while talented young pianist Rufus Edwards presents a selection of music including Eric Sweeney.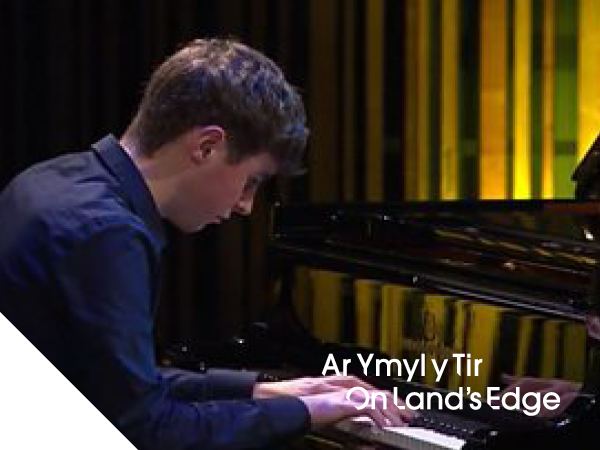 Time: 12.00pm
Location: Peppers
Tickets: £12.50
Glen Peters with
Mike Lewis – Goan Curry
A very tasty literary experience as Glen Peters discusses The Day I Died, a contemporary novel set in Fishguard and Goa with fellow novelist Mike Lewis and then cooks up a golden Goan fish curry.
With guest reader Hammad Rind, reading from his equally continent-connecting Four Dervishes, set in Wales and Pakistan. He may be bringing suitable desserts.
Glen Peters was born in India. His heritage is Anglo Indian. He was educated in a Catholic School in Calcutta and emigrated with his parents to London in 1968 to continue his education where he completed an honours degree in Chemistry and later a doctorate in management science. His early career was as an engineer in the energy industry in the UK and later joined the firm of Price Waterhouse as a management consultant where he was a partner for 25 years. He founded an arts centre in Wales. He is also passionate about environmental issues and is CEO of a renewal energy company. His previous books are The Shaitan of Calcutta (Parthian 2009) and Lucknow Ransom (Parthian 2015).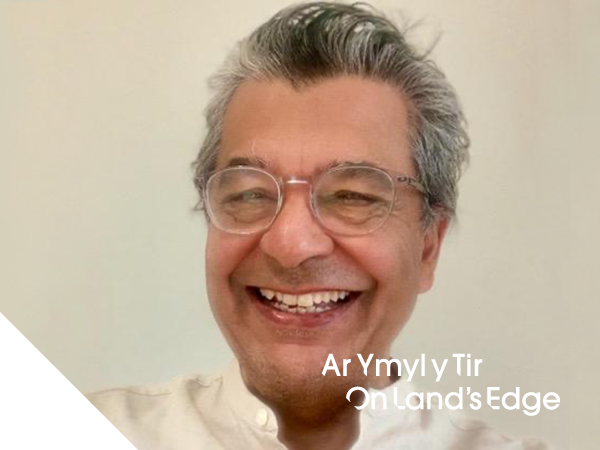 Time: 3.00pm
Location: Theatr Gwaun
FREE EVENT
Ports, Past and Present: Cysylltiadau Creadigol / Creative Connections
A celebration of work from 12 artistic commissions exploring the history and heritage of five port towns around the Irish Sea. Join us for short films, readings and spoken word performance. We'll be showing David Begley's stunning charcoal animation The Wexford Whale and Uisce Dŵr Water, Peter Stevenson and Jacob Whittaker's thoughtful short film about Fishguard and the sea, with readings from Jon Gower's forthcoming The Turning Tide: A Biography of the Irish Sea. Free event.
The Ports, Past and Present project is funded by the EU through the Ireland Wales Cooperation Programme.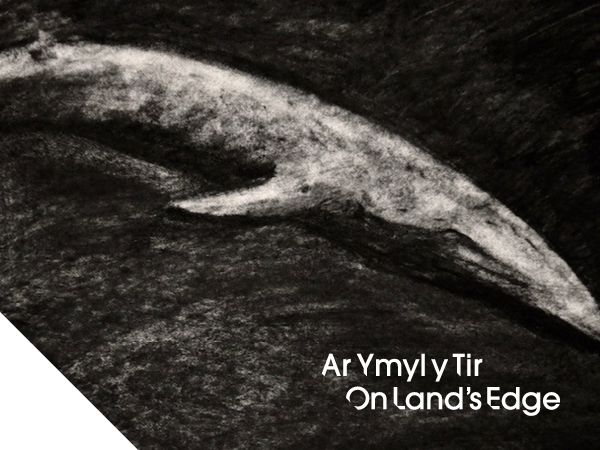 Time: 5.00pm
Location: Theatr Gwaun
FREE EVENT
Ports Past and Present Film Premiere (90 mins duration)
At the Water's Edge: Stories of the Irish Sea is a documentary about five Celtic port towns in Wales and Ireland that are connected and intertwined by the ferry routes that serve them. To get to know the landscape and the history, we hear from the people in the know. We meet up with several local characters and hear of their passion for the heritage and how their love for the place they call home is shaping the future. The film blends stories about each location's history with the communities' lived heritage and love for the natural beauty by which the ferry ports are surrounded. We hear of French invasions, first flights across the Irish Sea, Japanese ginkgo trees, secret gardens, one-eyed captains and their pet-ravens and of the good craic to be had in a dockers' pub on a Friday night. We follow the ferries as they criss-cross the Irish Sea and hear of the fascinating lives of wild sea birds, family links across two countries and how through the centuries, the ships have provided a life-line for the Irish and Welsh communities situated at the water's edge. The film invites the viewer to slow down and meet the wonderful people of Fishguard, Rosslare Harbour, Pembroke Dock, Holyhead and Dublin Port. The blend of characteristic voices, the sounds of the coast and the striking visuals of Welsh and Irish landscapes invite the viewer to discover these port towns so full of inspiring history, natural beauty and welcoming people.
Funded by the European Regional Development Fund through the Ireland Wales Co-operation Programme.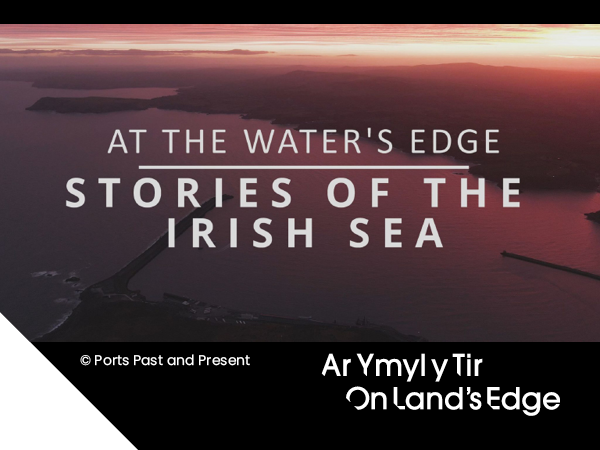 Time: 7.00pm
Location: Theatr Gwaun
Tickets: £10.00

A celebration in music and words of the connectedness between Wales and Ireland to close our festival.
We start our evening performances with distinguished author, Jon Gower, reading extracts from James Joyce's Ulysses. Suzi Macgregor then takes to the stage with a solo performance. Suzi's compositions combine the ethereal folk tones of Joni Mitchell and the ballad-pop of singer/composer Sara Bareilles.
Returning to Theatr Gwaun's stage after the well received 'Coracles and Crime with Clogs On' on Friday evening, Dewi Rhys-Jones delivers two Máirtín Ó Direáin poems in Irish with translations into English (by Peter Sirr and Frank Sewell).
Next up we welcome Hanan Issa, our new National Poet of Wales, to the stage for a poetry reading and then finish the evening with Irish inspired music and extracts from Eric Sweeney's Opera, Ulysses, performed by Matthew Bale (Piano), Lorna Osbon (Violin) and Jenni Harper (Soprano).